How to look after your Wick
So at Little Flickers we've done our bit by creating a natural, chemical and toxin-free candle, not to mention that it's vegan, cruelty-free and uses clean-burning soya coconut wax (need we go on). Now it's your turn to keep your beautiful new candle in the best shape.
As we know – you should always pay special attention to your wick and here's our advice for how to keep your wick in tip-top condition and so prolonging the life of your candle.
Before Lighting
Before lighting for the first time make sure your wick is upright and standing to attention! DO NOT trim it. Once lit, allow the candle to burn for at least 2-3 hours to prevent tunnelling. Don't worry if you've never heard of this before – have a look at our how to stop tunnelling blog, which will give you all the info you need.
Make sure your candle isn't in a draft as this could cause it to burn unevenly.
You also need to look after your wick to stop it sooting. This will happen less with a Little Flickers candle as we only use natural wax with no added paraffin but you still want to avoid it.
Trimming the Wick
After the first burn, and once the candle has cooled down, then it's time to trim your wick. Trim to around 7mm and this will help to maximise the gorgeous fragrance and so help to prevent soot. You'll then need to trim the wick after every use.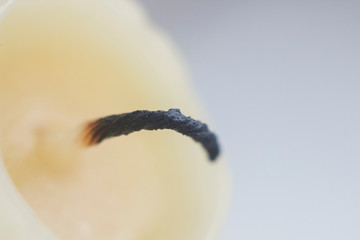 It's important to note as well that if your candle has multiple wicks they all need to be lit at the same time, and trimmed to the same length.
You could also try adding a self-trimming, wooden wick to your candle, which gives a gorgeous melodic crackling as well as looking after itself so you don't have to!
And that's it! A few simple tricks to give some TLC to your wicks.
For further information about looking after your beautiful candle please read our Candle Care page